Nothing beats locally raised Beef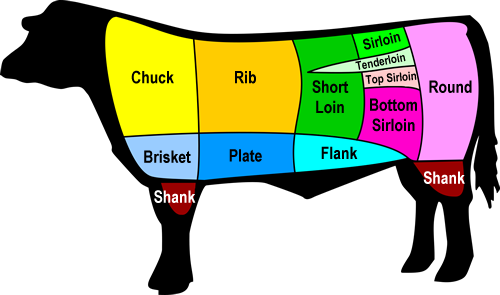 The commercials from the 90's said that beef was "what's for dinner." Few meals are as satisfying as a good piece of quality beef. And that's exactly what you'll get at Hanford Packing Company.
In the market for a single roast or small quantity of ground beef? Want a great assortment package? Or maybe you're looking to fill your freezer with a one-eight or one-quarter or even a full side of beef?
Whatever your needs, you can count on Hanford Packing Company for the highest quality, locally-sourced beef. We cut it fresh and freeze it the same day, and we'll cut, pack, and freeze your beef selections exactly the way you want them.
Individual Beef Cuts
Please call for pricing and info
T-Bone Steaks
New York Strip Steaks
Round Steaks
Skirt Steaks
Chuck Roasts
Beef Brisket
Beef Head w/ Tongue
Sandwich Steak
Ground Chuck
Shank Meat
Porterhouse Steaks
Ribeye Steaks
Cubed Steaks
Cowboy Steaks
Arm Roasts
Beef Loin
Beef Cheek Meat
Beef Summer Sausage
Ground Sirloin
Oxtail/Tongue
Sirloin Steaks
Chuck Steaks
Swiss Steaks
Tenderloin (Filet)
Tip Roasts
Beef Short Ribs
Beef Jerky
Hamburger (Bulk)
Corned Beef Brisket
Italian Beef
Rib Steaks
Club Steaks
Flank Steaks
Rump Roasts
Tri-tip Roasts
Beef Stew Meat
Soup Bone
Beef Sticks
Hamburger (Patties)
Beef Liver
Call us at 219-345-3755 or even better, come visit us at 11391 N. State Road 55 in DeMotte (Thayer), Indiana.
We're just south of the Kankakee River. It's a beautiful drive.
We're open Monday through Friday from 7 AM until 5 PM and Saturday from 8 AM until Noon. We're closed on Sundays.

We accept cash, checks, and credit/debit cards. Please note there is a 4% fee for payments made with a credit or debit card.