The other white meat is better than ever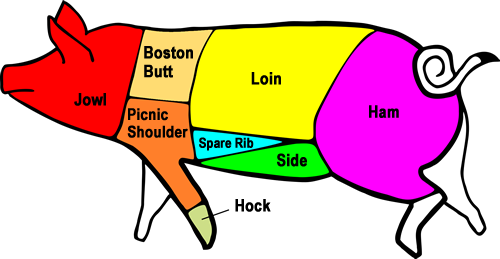 Lean pork is nutrient-dense, satisfying, and good for you. Some pork cuts (like pork tenderloin, pork loin chops and pork sirloin roast) are more healthy than chicken.
And…pork is delicious!
Ready for something fancy like a crown rib roast? Or maybe you want the best bacon for your BLT? How about a mouth-watering slab of baby-backs drenched in your favorite sauce?
Hungry yet? Hanford Packing Company provides only the highest quality cuts of pork from local sources. Come get yours today..
Individual Pork Cuts
All prices are "per pound" unless otherwise noted.
Please note that all prices are subject to change.
Pork Chops • $4.49
Pork Cubed Steak • $5.59
Sliced Bacon • $4.89
Smoked Ham Hocks • $2.99
Bulk Pork Sausage • $3.79
Smoked Sausage • $5.99
Hot Dogs • $7.49
Pork Steak • $3.99
Pork Spare Ribs • $3.89
Fresh Side* • $3.89
Fresh Ham Roast* • $3.29
Pork Sausage Links • $4.99
Smoked Pork Chops • $5.49
Boneless Butt • $4.10
Pork Loin Roast • $4.49
Pork Back Ribs • $4.89
Smoked Ham • $3.89
Fresh Ham Steak* • $3.99
Pork Burgers • $4.59
Boneless Chops • $4.99
Bone-in Butt • $3.79
Pork Tenderloin • $5.99
Pork Country Ribs • $3.59
Smoked Ham Steak • $4.29
Fresh Ham Hocks* • $3.09
Sausage Tube • $4.59
Boneless Loin Roast • $4.79
Pulled Pork • $8.50
You have lots of choices for your sausage: bulk breakfast sausage, breakfast links, Polish, bratwurst, bratwurst w/cheese, Italian bulk and linked, Swedish potato, green onion, coarse-ground taco meat, pork shish kabob meat, ground pork, and pork burgers.
Pork Fat – $0.40 per pound
* (Not smoked)
Call us at 219-345-3755 or even better, come visit us at 11391 N. State Road 55 in DeMotte (Thayer), Indiana.
We're just south of the Kankakee River. It's a beautiful drive.
We're open Monday through Friday from 7 AM until 5 PM and Saturday from 8 AM until Noon. We're closed on Sundays.